Join Samantha Shannon live to celebrate the release of her book A Day of Fallen Night.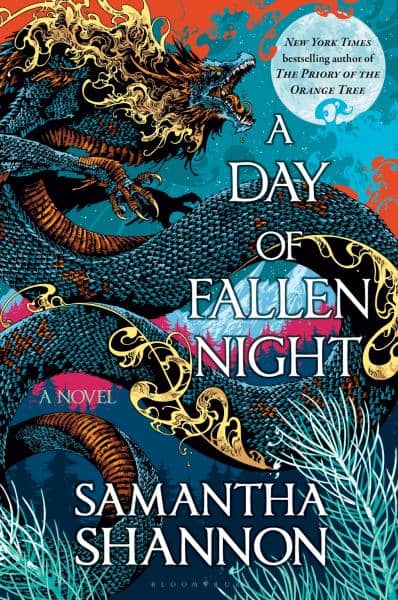 "Shannon artfully builds on the world of The Priory of the Orange Tree with this masterful standalone prequel. … it's an expansive epic … Shannon skillfully grounds high-stakes fantasy action in human emotion and a mature exploration of duty, bodily autonomy, identity, and motherhood. Series fans and any reader looking for queernorm fantasy will be thrilled by this self-assured adventure."
"In this stunning epic fantasy, lush with detail and nuance, Shannon weaves a tale of three powerful women that intersect in the most thrilling ways. Huge in scope, rich with emotion, and gorgeously queer, A Day of Fallen Night is the Roots of Chaos book fans have been waiting for. Shannon is simply a master of the genre"
Like Priory, A Day of Fallen Night is "not your grandfather's epic fantasy novel," and follows the adventures of four women finding the strength to protect humankind from a devastating threat, building on Samantha Shannon's brilliant and fresh reimagining of the legend of Saint George and the Dragon through a feminist fantasy lens. Complete with her signature "world-building, breath- taking action and sweeping romance to remind epic fantasy readers of why they love the genre in the first place," (Shelf-Awareness).
Deb Perelman is the author of two best-selling cookbooks; one of the internet's most successful food bloggers; the creator of a homegrown brand with more than a million Instagram followers; and the self-taught cook with the tiny kitchen who obsessively tests her recipes to make sure that no bowls are wasted and that the results are always worth the effort.
A Day of Fallen Night depicts the second time siden magic, the magic of fire, becomes unbalanced and rises from the volcano Dreadmount, creating an army of fire-breathing dragons, or wyrms, bent on the destruction of humankind.
Tunuva Melim is a sister of the Priory. For fifty years, she has trained to slay wyrms – but none have appeared since the Nameless One, and the younger generation is starting to question the Priory's purpose.

To the north, in the Queendom of Inys, Sabran the Ambitious has married the new King of Hróth, narrowly saving both realms from ruin. Their daughter, Glorian, trails in their shadow – exactly where she wants to be.

The dragons of the East have slept for centuries. Dumai has spent her life in a Seiikinese mountain temple, trying to wake the gods from their long slumber. Now someone from her mother's past is coming to upend her fate.

When the Dreadmount erupts, bringing with it an age of terror and violence, these women must find the strength to protect humankind from a devastating threat.

Intricate and epic, Samantha Shannonsweeps readers back to the world of The Priory of the Orange Tree, showing us a course of events that shaped it for generations to come.
Samantha Shannon photo courtesy of Louise Haywood-Schiefer; Rita Chang-Eppig photo courtesy of the publisher