Join #1 New York Times bestselling author Jen Sincero live, and start cultivating your own Badass Habits.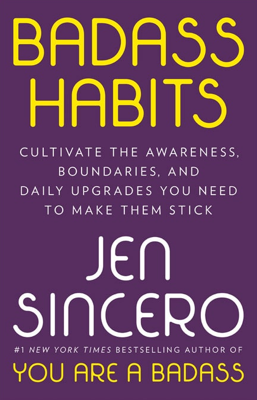 "If touchy-feely self-help tomes make you feel, shall we say, less than inspired, this no-nonsense manifesto to awesomeness might be just what you're looking for. Filled with blunt and sassy advice, do-it-yourself exercises in personal transformation, and a whole lot of hilarity…"
"Jen Sincero helps readers find true financial success through her combination of practical advice and deeply personal (and often hilarious) stories."
Join New York Times bestselling author Jen Sincero live as makes the seemingly complex process of understanding, building, and breaking habits accessible and simple. Equipped with her fresh perspective and trademark tone, Jen will share the keys to building the habits they want and dethroning the ones they don't.
Jen's brand-new best-seller Badass Habits explains that habits are not just actions, but they reveal unmet desires, boundary breakdowns, levels of self-awareness, and unconscious beliefs and fears. Therefore, breaking and building habits is not a commitment to repetitive action, but a commitment to maintain boundaries that align with their goals.
Badass Habits examines exactly how habits work and asks readers to acknowledge the habits they currently have and assess who they need to start being in order to get the habits they want. She alerts readers to the three primal responses that corrupt our efforts to hold the boundaries we set, and she encourages us to see the connection between the boundaries we want to have and the primary relationships in our lives—which either galvanize or undermine our efforts. After getting reader's heads on board, Jen urges them to take stock of why they want to change certain habits, and to envision the upgraded version of themselves that truly embodies the desires of their heart.
Join Jen live to celebrate the release of Badass Habits and get your own complimentary copy of this hilarious step-by-step guide delivered right to your door. Badass Habits includes inspiring testimonials from people who've successfully increased their discipline and ultimately changed their lives. With these habit-building tools in hand, you'll be ready to set out to be the best and most authentic versions of yourself, remembering that "forming good habits is not about being perfect, it's about being more of who you are."