Join Colm Tóibín live to celebrate the release of his book The Magician.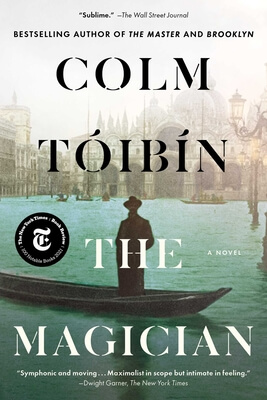 "The Magician recaptures a literary giant… Toibin's symphonic and moving novel humanizes [Mann]… Maximalist in scope but intimate in feeling… The great theme of Toibin's novel, as in much of Mann's fiction, is decline — of manners and morals, of families, of countries and institutions."
"It's hard not to talk about Colm Tóibín's latest novel, The Magician, in the loftiest of terms, as something staggering, or dazzling, or an achievement… If you're willing to give yourself over to the vast and stunningly realized world that Tóibín conjures around Mann, you'll find yourself savoring every page."
A New York Times Notable Book, Critic's Top Pick, and Top Ten Book of Historical Fiction
Named a Best Book of the Year by The Washington Post, NPR, Vogue, The Wall Street Journal, and Bloomberg Businessweek
The Magician opens in a provincial German city at the turn of the twentieth century, where the boy, Thomas Mann, grows up with a conservative father, bound by propriety, and a Brazilian mother, alluring and unpredictable. Young Mann hides his artistic aspirations from his father and his homosexual desires from everyone. He is infatuated with one of the richest, most cultured Jewish families in Munich, and marries the daughter Katia. They have six children. On a holiday in Italy, he longs for a boy he sees on a beach and writes the story Death in Venice. He is the most successful novelist of his time, winner of the Nobel Prize in literature, a public man whose private life remains secret. He is expected to lead the condemnation of Hitler, whom he underestimates. His oldest daughter and son, leaders of Bohemianism and of the anti-Nazi movement, share lovers. He flees Germany for Switzerland, France and, ultimately, America, living first in Princeton and then in Los Angeles.
In this "exquisitely sensitive" (The Wall Street Journal) novel, Tóibín has crafted "a complex but empathetic portrayal of a writer in a lifelong battle against his innermost desires, his family, and the tumultuous times they endure" (Time), and "you'll find yourself savoring every page" (Vogue).