Join Matthew McConaughey and Reese Witherspoon in celebration of Matthew's new memoir Greenlights.
Purchase a ticket for this event and receive a complimentary copy of Greenlights, delivered right to your door.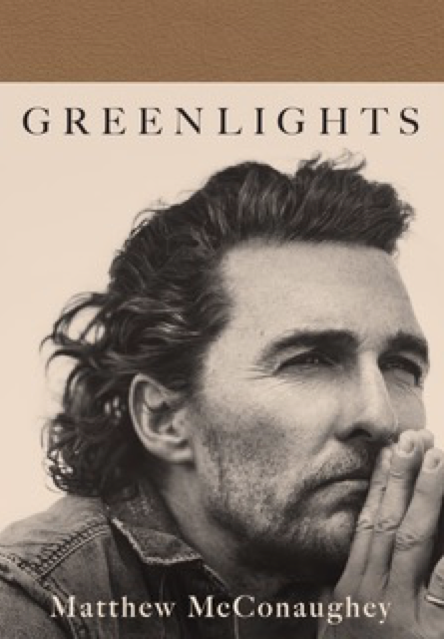 "Matthew McConaughey is a talented actor and a fine writer, but a total genius at living. He attacks life with an exhilarating ferocity. This is a wildly unexpected and delightful book you can't just read, you have to experience."
"A Renaissance man on the big screen, McConaughey shows he is the same on the page. Mystical and spiritual but mostly just wonderful, Greenlights is an inspired memoir that celebrates the idea that it's the journey, not the destination, that will fulfill us."
"Unflinchingly honest and remarkably candid, McConaughey's book invites us to grapple with the lessons of his life as he did—and to see that the point was never to win, but to understand."
"Greenlights is many different books at once: an entertaining autobiography, a delightful adventure story, a very funny comedy, a wise self-help guide, an inspiring argument for love and family, and a candid tale of spiritual and personal discovery. I cannot recommend it highly enough."
"It shouldn't surprise you that this book is good, but it will surprise you just how good it is. Wise and entertaining, this is an inspiring memoir and how-to from one of the great outlaw philosophers and artists of our time."
"This is not a traditional memoir, or an advice book, but rather a playbook based on adventures in my life. Adventures that have been significant, enlightening, and funny, sometimes because they were meant to be but mostly because they didn't try to be."
Matthew McConaughey has kept a diary for thirty-five of his fifty years, and recently worked up the courage to take those writings into solitary confinement and read through them. He found not only stories, questions, truths, and affirmations, but also a reliable theme. Greenlights is an album and a record of what he has seen and learned along the way—"my sights and seens, felts and figured outs, cools and shamefuls."
In Greenlights, readers will learn about many of the adventures and formative moments in McConaughey's life, and the sense of meaning he's found through his philosophy of the same name. From growing up as an adventurous kid in a tough-love Texas home of rule breakers, to revelatory journeys to Australia, Peru, and Mali, to his early days in Hollywood and meteoric rise to fame, McConaughey shares how his life experiences have instilled in him the importance of competent values, the power of new experiences, and, as he puts it, "either changing your reality or changing how you see it."
Written with candor, humor, and profound insight and humility, the uniquely McConaughey Greenlightsis an unconventional portrait of an unconventional artist and a wise road map to navigating a life of more greenlights—one that recognizes that the red and yellow lights eventually turn green, too.