Join Barbara Kingsolver and Jane Hirshfield live on the occasion of the release of Barbara's new book How to Fly.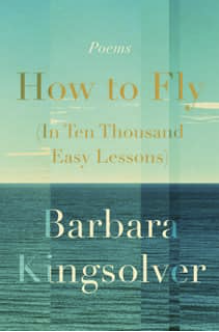 "Purchase a ticket for this event and receive a complimentary copy of How to Fly delivered right to your door. "
HOW TO FLY is a luminous new collection of poems by Barbara Kingsolver. The second poetry book in the storied career of this beloved, prizewinning author, it was written quietly over several decades before finding its compelling, coherent shape during recent times that seem to call for the bracing insights of poetry. In more intimate terms than ever before, Kingsolver contemplates the everyday and the metaphysical, offering reflections on the practical, the spiritual, and the wild. Her "how-to" poems apply wisdom and disarming humor to ventures as wide-ranging as marriage and divorce, sheep-shearing, praying to unreliable gods,and of course, flying.They evoke clear-eyed contemplation of life and death, of art itself, and the transcendent wonders of the natural world in unexpected forms: birdsong and ghost-flowers, ruthless ants, clever shellfish, coral reefs, and thousand-year-old beech trees. In these poignant meditations, readers will recognize Kingsolver's lyrical voice and also find new surprises.
"I've written poems for as long as I can remember, starting with rhyming ditties in childhood that cracked up my siblings, and bleak adolescent confessionals that I kept to myself," Kingsolver recalls. "In school I studied science, for practical reasons, but I could never stop the poetry from bubbling out of my soul. I have proof of this: the organic chemistry textbook I used in college has poems scribbled in its margins. Eventually my secret writing life proved to be a profession as worthy as science, and I became what I happily am to this day, a writer. I take pleasure in every form, from journalism and narrative nonfiction to short stories, novels, even screenwriting. But I never stopped writing poems, and they're special to me, like love children. Nobody asks them of me, I just make them for the thrill of it, little bursts of ecstasy popping open wherever they happen to fall."
HOW TO FLY reveals a new side of Kingsolver's remarkable talents to her legion of readers, while displaying all the grace, perception, and art we have come to love in her work.