Join Ross Gay live to celebrate the release of his book Inciting Joy.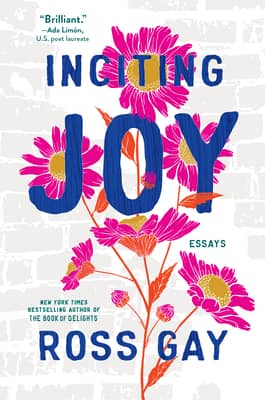 "Stunning…Gay's curiosity is present on every page and his precise yet playful prose sparkles…This resonant, vivid meditation shouldn't be missed."
""Ross Gay is as insightful and lyrical as an essayist as he is as a poet. His essays are as trenchant as they are moving, finding in the minutiae of life the grand themes of human existence."
An intimate and electrifying collection of essays from the New York Times bestselling author of The Book of Delights
In these gorgeously written and timely pieces, prize-winning poet and author Ross Gay considers the joy we incite when we care for each other, especially during life's inevitable hardships. Throughout Inciting Joy, he explores how we can practice recognizing that connection, and also, crucially, how we expand it.
In "We Kin" he thinks about the garden (especially around August, when the zucchini and tomatoes come on) as a laboratory of mutual aid; in "Share Your Bucket" he explores skateboarding's reclamation of public space; he considers the costs of masculinity in "Grief Suite"; and in "Through My Tears I Saw," he recognizes what was healed in caring for his father as he was dying.
In an era when divisive voices take up so much air space, Inciting Joy offers a vital alternative: What might be possible if we turn our attention to what brings us together, to what we love? Full of energy, curiosity, and compassion, Inciting Joy is essential reading from one of our most brilliant writers.