Join John Searles live to celebrate the release of his book Her Last Affair.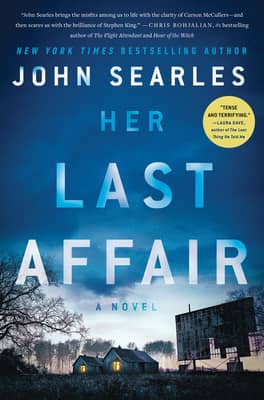 "[Searles] has crafted a strange, spooky world that is absolutely believable. Sweet, precocious, desperate Sylvie is a memorable young striver in the tradition of Scout Finch, and Help for the Haunted is an exceptional piece of storytelling, finally not about demons, but human beings who are all too flawed and all too real."
"In this inventive, deftly woven novel, John Searles conjures a world populated by eccentrics and dreamers who are desperate for a second chance and willing to do almost anything to get it. Genre-bending, cinematic, and darkly funny, Her Last Affair ends with a series of shocking twists that will leave you breathless."
Every marriage has its secrets….
Skyla lives alone in the shadow of the defunct drive-in movie theater that she and her husband ran for nearly fifty years. Ever since Hollis's death in a freak accident the year before, Skyla spends her nights ruminating about the regrets and deceptions in her long marriage. That is, until she rents a cottage on the property to a charming British man, Teddy Cornwell….
A thousand miles away, Linelle is about to turn fifty. Bored by her spouse and fired from her job when a questionable photo from her youth surfaces on social media, her only source of joy is an on-line affair with her very first love, a man she's not seen in nearly thirty years, Teddy Cornwell…
While in New York City, Jeremy, a failed and bitter writer, accepts an assignment to review a new restaurant in Providence. Years ago, Providence was the site of his first great love and first great heartbreak—and maybe, just maybe, he'll look her up when he's back in town…
Part page-turning thriller, part homage to film noir, and dazzling in its insight into the often desperate desires of the human heart, Her Last Affair is a tense and atmospheric novel of love lost and found again.
John Searles photo courtesy of the publisher; Amy Ryan photo courtesy of the publisher