Join Margaret Atwood live to celebrate the release of her book Burning Questions.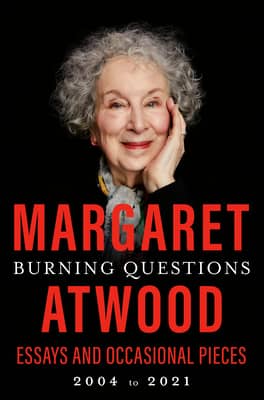 "With her bold imagination, calm insight, and wit, Atwood gathers diverse strands into a marvellous collection ranging from the history of forests to the nature of science fiction and beyond. Burning Questions is a delicious antidote to intellectual fragmentation that left me inspired"
In this brilliant selection of essays, the award-winning, best-selling author of The Handmaid's Tale and The Testaments offers her funny, erudite, endlessly curious, and uncannily prescient take on everything from debt and tech to the climate crisis and freedom and the importance of how to define granola—and seeks answers to Burning Questions such as…
• Why do people everywhere, in all cultures, tell stories?
• How much of yourself can you give away without evaporating?
• How can we live on our planet?
• Is it true? And is it fair?
• What do zombies have to do with authoritarianism?
In more than fifty pieces, Atwood aims her prodigious intellect and impish humour at the world, and reports back to us on what she finds. This roller-coaster period brought the end of history, a financial crash, the rise of Trump, and a pandemic. From debt to tech, the climate crisis to freedom; from when to dispense advice to the young (answer: only when asked) to how to define granola, we have no better guide to the many and varied mysteries of our universe.
Margaret Atwood photo by Jean Malek; Judy Blume photo courtesy of the publisher