Join award-winning author Elizabeth George live to celebrate Mastering the Process.
Discover for yourself the steps this New York Times bestselling writer recommends to develop and enhance your own writing.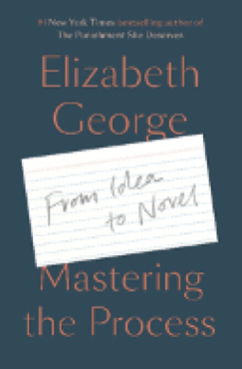 "George demonstrates her own cardinal virtues of writing-careful organization and meticulous attention to detail-in this skillful guide to creating a novel…. Writers looking for practical insights will find this book to be of great merit."
"[A] practical guide to technique and intimate look into George's writing life [that] wisely reminds readers and students that writing is a job and should be scheduled as such … [and] has much to teach about developing character, plot, and point of view."
"An up-close and personal class in writing a novel."
Elizabeth George is one of the most acclaimed mystery writers of the last two decades. The books in her Inspector Lynley series are mainstays on bestseller lists across the country — every installment garners rave reviews, an incredible feat for an American writer tackling British crime fiction. Elizabeth's uncanny ability to create characters who grow and evolve over two dozen novels, develop scenes that takes readers into a picturesque English setting, and construct intricate plot twists that make her novels the definition of a page-turner, has cemented her as one of the great crime novelists writing today. At events she is often asked: "how do you do it?" and in Mastering the Process: From Idea to Novel, Elizabeth shares her method to creating one of the most beloved mystery series ever written.
Join Elizabeth live as she talks about Mastering the Process and her routine of researching, outlining, and writing that she has perfected over dozens of books. Discover how Mastering the Process uses her 2008 Inspector Lynley novel Careless in Red to illustrates just how much work, research, and development go into her stories even before the first word of a rough draft is written. In this live session, Elizabeth introduces the wrting process that Mastering the Process fully details, one that includes never-before-seen notes, rough drafts, character analyses, and personal photos, providing an honest, unvarnished look at how she came to write one of her most popular novels.
Fans of Elizabeth's books will love this behind-the-scenes perspective on the inner workings of beloved characters like Inspector Lynley and Barbara Havers. Aspiring writers will get a clear-eyed view of every step it takes to write a bestselling novel.