Join Congressman Adam Schiff for his vital, inside account of American democracy in its darkest hour – and a warning that the forces of autocracy unleashed by Trump remain as potent as ever.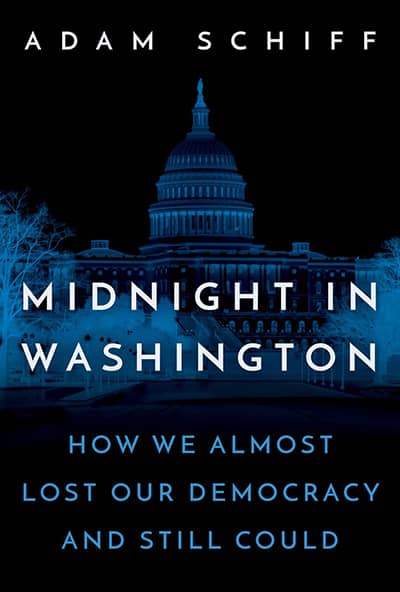 "When American democracy faced a near-death experience, Adam Schiff served as an able guardian, protecting our nation from enemies foreign and domestic. Schiff not only provides riveting details in this compelling account, he delivers a much-needed warning about the threats facing America from within and an urgent how-to guide for preserving our nation."
"If there is still an American democracy fifty years from now, historians will be very grateful for this highly personal and deeply informed guide to one of its greatest crises. We should be grateful that we can read it now."
In the years leading up to the election of Donald Trump, Congressman Adam Schiff had already been sounding the alarm over the resurgence of autocracy around the world, and the threat this posed to the United States. But as he led the probe into Donald Trump's Russia and Ukraine-related abuses of presidential power, Schiff came to the terrible conclusion that the principal threat to American democracy now came from within.
In his new book, Midnight in Washington, Schiff argues that the Trump presidency has so weakened our institutions and compromised the Republican Party that the peril will last for years, requiring unprecedented vigilance against the growing and dangerous appeal of authoritarianism. The congressman chronicles step by step just how our democracy was put at such risk, and traces his own path to meeting the crisis—from serious prosecutor, to congressman with an expertise in national security and a reputation for bipartisanship, to liberal lightning rod, scourge of the right, and archenemy of a president. Schiff takes us inside his team of impeachment managers and their desperate defense of the constitution amid the rise of a distinctly American brand of autocracy.
Deepening our understanding of prominent public moments, Schiff reveals the private struggles, the internal conflicts, and the triumphs of courage that came with defending the republic against a lawless president—but also the slow surrender of people that he had worked with and admired to the dangerous immorality of a president engaged in an historic betrayal of his office. Schiff's fight for democracy is one of the great dramas of our time, told by the man who became the president's principal antagonist. It is a story that began with Trump but does not end with him, taking us through the disastrous culmination of the presidency and Schiff's account of January 6, 2021, and how the anti-democratic forces Trump unleashed continue to define his party, making the future of democracy in America more uncertain than ever.
Get a ticket for this in-person event, and a complementary copy of Congressman Schiff's new book, Midnight in Washington, when you arrive at Angelico Concert Hall on October 15th.
Please note: This live event will be held at Angelico Hall, Dominican University. Ticket sales are through the University and Transact Campus SmartPay. Because of Covid-19 restrictions, a few special procedures apply:
You'll be asked to register as you purchase the ticket. At the event you'll have to show proof of Covid-19 vaccination and wear a mask.
Your copy of the book will be given to you at the event. There are no books being shipped.
All seats are reserved. You'll need to show a copy of your e-ticket at the event.
Transact Campus SmartPay may add a service charge of $1.10