Join Dorothy Wickenden live to celebrate the release of her book The Agitators.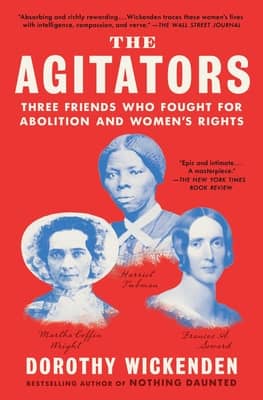 "Wickenden, executive editor of the New Yorker, does an almost perfect job of braiding together the stories of three very different women."
"The Agitators is an impressive narrative of three women who were at the center of a burgeoning movement. Their trailblazing path is captured and related deftly by the author, their triumphs and tragedies narrated emphatically for a modern audience. All three women lived and breathed for the freedom of all men and women, selflessly giving as much as they were capable. An A+ historical narrative."
From the executive editor of The New Yorker, a riveting, provocative, and revelatory history of abolition and women's rights, told through the story of three women — Harriet Tubman, Frances Seward, and Martha Wright—in the years before, during and after the Civil War.
In the 1850s, Harriet Tubman, strategically brilliant and uncannily prescient, rescued some seventy enslaved people from Maryland's Eastern Shore and shepherded them north along the underground railroad. One of her regular stops was Auburn, New York, where she entrusted passengers to Martha Coffin Wright, a Quaker mother of seven, and Frances A. Seward, the wife of William H. Seward, who served over the years as governor, senator, and secretary of state under Abraham Lincoln. During the Civil War, Tubman worked for the Union Army in South Carolina as a nurse and spy, and took part in a spectacular river raid in which she helped to liberate 750 slaves from several rice plantations.
Wright, a "dangerous woman" in the eyes of her neighbors, worked side by side with Elizabeth Cady Stanton and Susan B. Anthony to organize women's rights and anti-slavery conventions across New York State, braving hecklers and mobs when she spoke. Frances Seward, the most conventional of the three friends, hid her radicalism in public, while privately acting as a political adviser to her husband, pressing him to persuade President Lincoln to move immediately on emancipation.
The Agitators opens in the 1820s, when Tubman is enslaved and Wright and Seward are young homemakers bound by law and tradition, and ends after the war. Many of the most prominent figures of the era — Lincoln, William H. Seward, Frederick Douglass, Daniel Webster, Charles Sumner, John Brown, William Lloyd Garrison—are seen through the discerning eyes of the protagonists. So are the most explosive political debates: about the civil rights of African Americans and women, about the enlistment of Black troops, and about opposing interpretations of the Constitution.
Through richly detailed letters from the time and exhaustive research, Wickenden traces the second American revolution these women fought to bring about, the toll it took on their families, and its lasting effects on the country. Riveting and profoundly relevant to our own time, The Agitators brings a vibrant, original voice to this transformative period in our history.
Dorothy Wickenden photo by Jayme Grodi