Join Yaa Gyasi live in conversation with Esi Edugyan live to celebrate the new paperback release of her New York Times bestseller Transcendent Kingdom.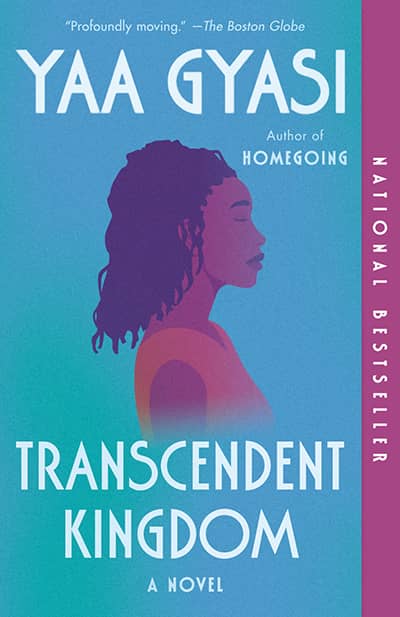 "Gyasi sometimes reminds me of other writers who've addressed the immigrant experience in America–Jhumpa Lahiri and Yiyun Li in particular…. As in the work of Chimamanda Ngozi Adichie or the Ghanaian-American short-story writer Nana Kwame Adjei-Brenyah, the African immigrants in this novel exist at a certain remove from American racism, victims but also outsiders, marveling at the peculiar blindnesses of the locals…brilliant… Transcendent Kingdom trades the blazing brilliance of Homegoing for another type of glory, more granular and difficult to name. "
"A book of blazing brilliance … of profound scientific and spiritual reflection that recalls the works of Richard Powers and Marilynne Robinson… A double helix of wisdom and rage twists through the quiet lines…Thank God, we have this remarkable novel. "
Soon to be out in paperback, Yaa Gyasi's stunning novel Transcendent Kingdom is a deeply moving portrait of a family of Ghanaian immigrants ravaged by depression and addiction and grief—a novel about faith, science, religion, love. Join this celebrated author live and online with Esi Edugyan as together they celebrate this exquisitely written, emotionally searing, exceptionally powerful follow-up to Gyasi's phenomenal debut
About Transcendent Kingdom
Gifty is a sixth-year PhD candidate in neuroscience at the Stanford University School of Medicine studying reward-seeking behavior in mice and the neural circuits of depression and addiction. Her brother, Nana, was a gifted high school athlete who died of a heroin overdose after an ankle injury left him hooked on OxyContin. Her suicidal mother is living in her bed.
Gifty is determined to discover the scientific basis for the suffering she sees all around her. But even as she turns to the hard sciences to unlock the mystery of her family's loss, she finds herself hungering for her childhood faith and grappling with the evangelical church in which she was raised, whose promise of salvation remains as tantalizing as it is elusive.
To register for this event, please select your bookstore below.